Born in 1983, Alice Laverty graduated with a Master's degree in drawing at the Ecole Supérieure de Dessin Emile Cohl, Lyon. and a Master 2 Research in Contemporary Creation and Plsticity at Paris Sorbonne University. She worked and lived in the United States as a portraitist-caricaturist and painter, then, after a stint at the "59 Rivoli" artists' squat, she participated in several solo and collective exhibitions (Paris, Milan, Ile de Ré), at the Cow Parade Edition 2015, and continues her work as a painter in a private workshop. She exhibits regularly on some Art Fairs, galleries, companies and foundations and is followed by collectors around the world, (Dubai, Lebanon, Brussels, Palm Beach - Jury selection of Mola Paris 2016-17)
Whatever the technique, oil, ink or pen Bic, Alice Laverty offers a carnal and spiritual painting that questions our corporeity by the dusk of Transhumanism. Fascinated by the individual, and the body as a vehicle of emotions, she also defends a respect for the "female figure" by her representations and staging carefully thought out. Since his first major solo exhibition A corps et désaccords, in 2014, which featured creatures in the throes of their emotions, and the exhibition Being Cellular (s) in 2015, with a proposal for formatting and coloring of the duality of Man, Alice pursues her quest by putting the body and her "emotionality" in the face of new technologies.
« We are in search of our individuality but are often all prisoners of the same systems that we build with application. All alike in the blind pursuit of our "uniqueness", all unique, yet all made of the same matter. How to know where I am; what is "my skin" as Paul Valéry said, and where does the one of the other begin? While formatting the screens, by "where" be? In our torn world for ideas and buying power, it's something to think about … An artist should paint about her world and her time, finding the universality of everything. My pictorial approach seeks to say the paradox of the Man of today. From its most individual aspect, its enclosing body envelope, limiting, to its universality, cellular and emotional. This modern, Connected individual has everything to communicate (devices, telecommunication, Internet, Smartphones) but he always comes up against the Other, and the loneliness of his condition. "
In 2016, Alice exhibits "Cells & Love # 1", at the Efficie Business Center, on the Champs Elysees. During this last exhibition, Alice unveils the fruits of plastic research: the intervention of smartphones in our lives. The artist wonders about their impact on human relationships. Research she pursues at her studio and through her Research Master, drawing inspiration from humanistic philosophical theories that try to define the creature "Being Human". In 2017, the fighting of our bodies was exposed in large at the Ministry of Finance of Bercy with Corps Connected. The artist deepens his artistic queries with regard to Man, and his addictive report to new technologies of communication.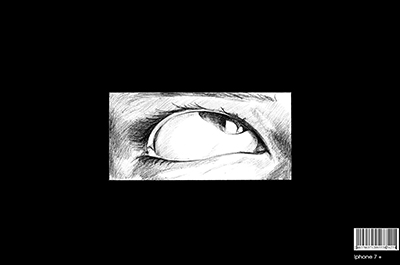 In 2018, during the exhibition "Mirror Mirror" at the Arteppes Annecy, his research ventures on more conceptual paths, and the body is defragmented in hundreds of drawings, locked in the formats of our screens. then animates and redesigns, evanescent. And she is currently pursuing her research with projects with other young artists from the contemporary figurative scene.
Alice Laverty is exhibited in various places, spaces of contemporary art, public places, institutional and private, galleries (Paris, Milan, London).
Alice Laverty left Paris lives and works in Haute Savoie, between Annecy and Geneva.